Why Us?  – Why Not Us?
The Best Table Top Display Company
We may be the best table top display company because of our fast turnaround times. Maybe you'll prefer us because we have some table top displays with a lifetime guarantee. We work with a large number of manufacturers so we can offer everything from economical table top displays to top of the line table top exhibit booths. We know our way around table top displays and we have everything from the lowest cost options to the most impressive options. The impression you make the next time you exhibit will depend as much upon the hardware as it does the graphics.  We will custom design the graphics to match any brochures you intend to use in the exhibit.  We will also check your website to be sure we keep the same look and feel that you have already branded there.
Our table top display company offers affordable options for exhibitors and we don't sacrifice quality. We have seen for example cheaper table covers on the market and they may look very similar to ours until someone spills a glass of water on them.
We have had clients tell us they found something cheaper elsewhere only to discover that what they found either did not include design or did not include printing of the graphics or both.  What they thought was an inexpensive exhibit display was only empty hardware. We include design work and printing of the graphics so that there is nothing else to buy.  If you have an in-house art department or some other designer that you'd prefer to work with then we offer a discount for providing us with ready to print files.
Great Selection
We offer various types and styles of exhibit products all in one table top display company. You can get the type fold up into a briefcase or pop up like the big exhibits do and banner styles in all shapes and sizes.
We have some displays with whiteboards which are great for classrooms and for presentations to groups of people. Some of our products fit together with Velcro while others just unfold or pop up into action.  None of our options will require tools for assembly or any complex instructions. You'll find that we have the panel type with either three or four panels and an optional header.
We have all the extras such as literature racks, LED lighting and table covers all available for one stop shopping. We also make it easy to shop, you can get a kit with everything or just get the specific items you want.
We also offer different printing options, for example if you have a two color logo that you want on a table cover we can use a computer cut vinyl material, commonly used on sports uniforms, such as football jerseys. The vinyl is transferred to any standard color twill table throw with a high temperature heat press. The vinyl is permanently adhered and will not peel, crack, or fade. It can be washed and ironed. By using this method you avoid paying for full color printing.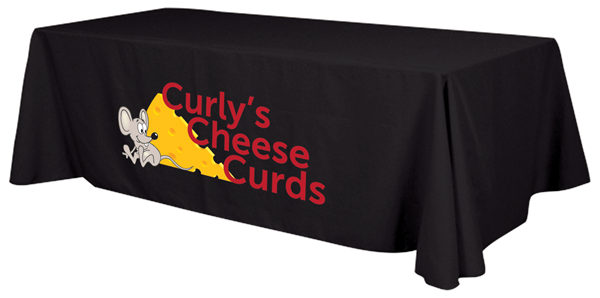 When you do need full color printing we've got you covered.  We use a process called dye sublimation. A dye sublimation printer is used because it heats a dye and prints it onto fabric.  The word "sublimation" means that the dye begins as a solid and becomes a gas in the process without ever becoming a liquid. By using this method we are able to chemically bond the dye with the fabric. The table throws can be machine washed cold or warm without bleach. Then you simply tumble dry on a low setting but the dryer should not exceed 120 degrees. Remove immediately to prevent wrinkling just as you would do with your clothing.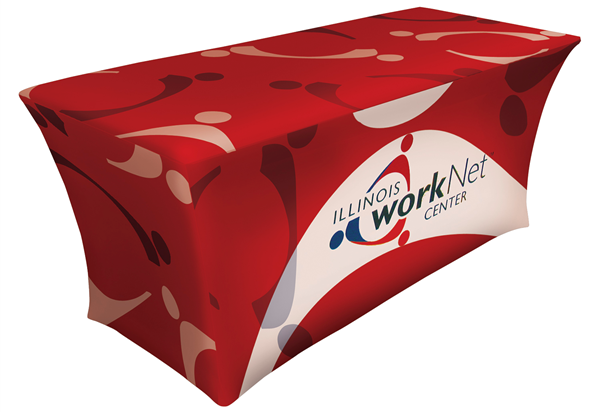 Expect the best from us, we only look expensive