Banner Displays
Although we refer to these as "Banner Displays" they are not at all like the inexpensive looking vinyl retractable banner material you may have seen.  These are very rich looking fabric banners printed with a unique, high resolution printing process.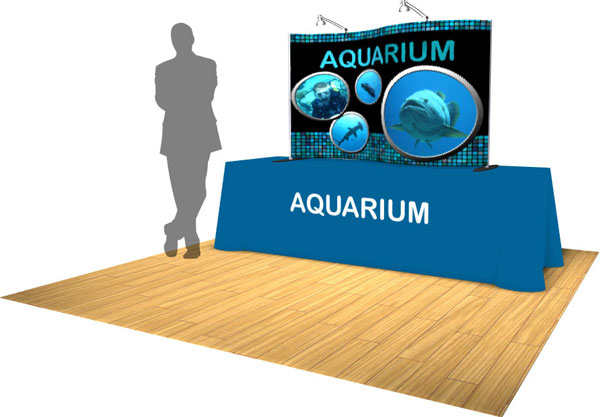 In the above picture you'll notice that the shape of the banner is like a flag blowing in the breeze. This curved shape helps to make it visible from different angles as people approach. The Aviator™ Gust Table Top is a great solution with an upscale style. The black aluminum tube frame with push button assembly makes setting up quick and easy.All Aviator™ Table Top graphics are finished in the pillowcase style. Top quality dye sublimation and sturdy zippers bring the same fantastic Aviator™ hanging sign graphics to these Table Tops. A shipping case comes included with every Aviator™ Table Top unit order. Unit dimensions (Open) 72"w 48.5"h x 18.5"d (foot). If you travel to various exhibits you'll find that with a total weight of only 27 pounds including the case, graphics and two lights this is easy to transport.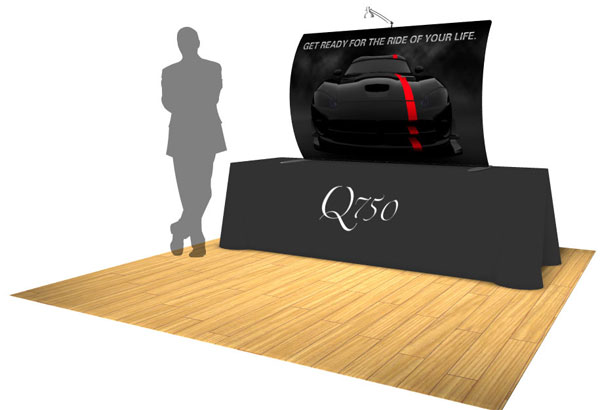 The image above shows our Wave shaped display. Add a table cover and this is perfect for local trade shows that you typically have at the chamber of commerce. This unit comes with a shipping case and you may optionally wish to add a light. Unit dimensions (Open) 64"w 41.5"h x 18.5"d (foot). You'll find this handy little package is easy to ship to your next out of town exhibit because the entire display including the case is only 23 pounds.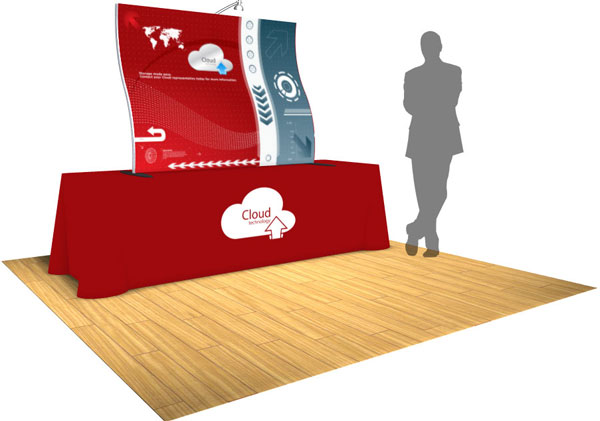 Once again we use an interesting and unique shape to help you stand out from the other exhibitors. We call this style the Surf shape and it features the same easy setup as the others above. Unit dimensions (Open) 69"w 49"h x 18.5"d (foot). Sold with the case for easy transport the entire weight including the case is only 27 pounds.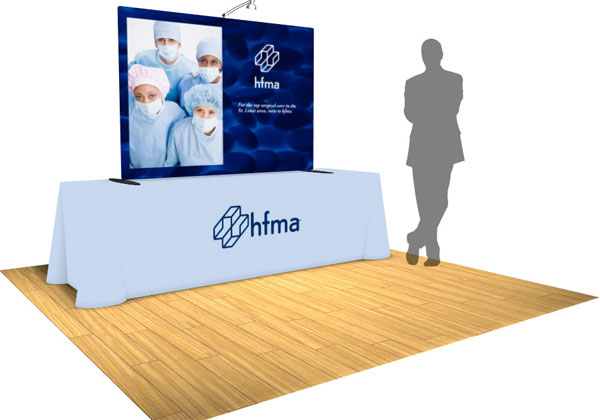 Our Splash design shown above features a flat banner and the carry case is included. Unit dimensions (Open) 72"w 49.75"h x 18.5"d (foot). Another trade show display that is easy and inexpensive to ship with the display, graphics and case weighting only 27 pounds.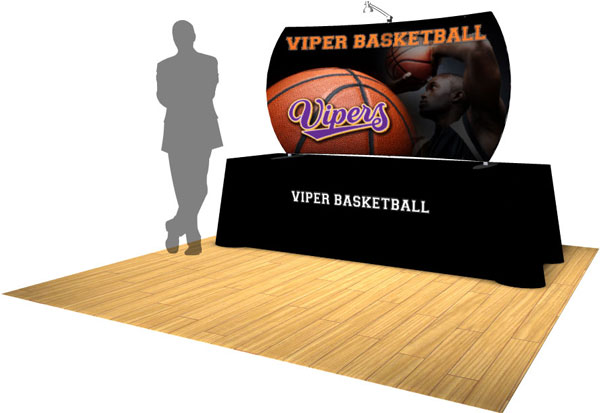 Above you can see one of our banner displays in a style we call the Wind display. At only 23 pounds including the display case it is easy to ship. The curved sides give it a unique look. The unit dimensions are (Open) 43"h x 75"w x 18.5"d (foot) and double sided printing is optionally available. We have clients such as schools that are at an event one day recruiting students interested in health professions and the next day they are at an event recruiting students interested in technology careers. With two sided graphics they simply turn the display around instead of buying a second display.