Pop Up Table Top Displays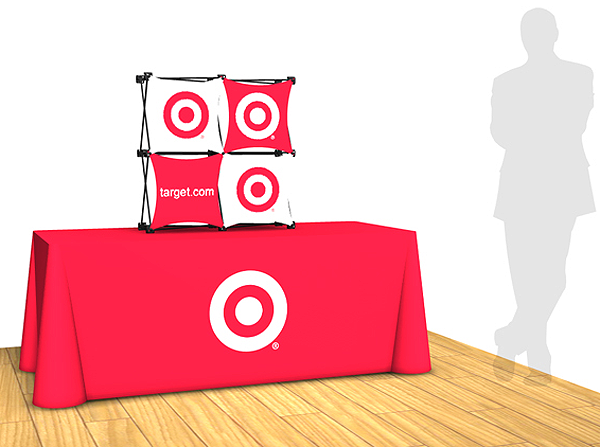 SalesMate Exhibitor Series 2×2 A SalesMate is one of the hottest new pop up table top displays on the market. Compact, convenient and easy set-up, The SalesMate is small in size when traveling, upon set-up the all inclusive skins provide great impact! The SalesMate Exhibitor Series Kits were designed to provide turn-key table top display options that carry over the excitement and purpose of Xpressions . The Exhibitor Series Kits include everything needed to travel and display efficiently at trade shows. Set-up is a breeze with a full size 8' throw emblazoned with a large perma logo presence. Each 8' throw can be converted to a 6' with the included velcro tabs. The SalesMate display comes with the graphics already on the frame. Traveling with large displays is not always possible, choosing SalesMate compromises nothing except the hassle!
SalesMate Exhibitor Series table top kits eliminate a little stress out of life. Have a great show.
Shipping Weight 9lbs.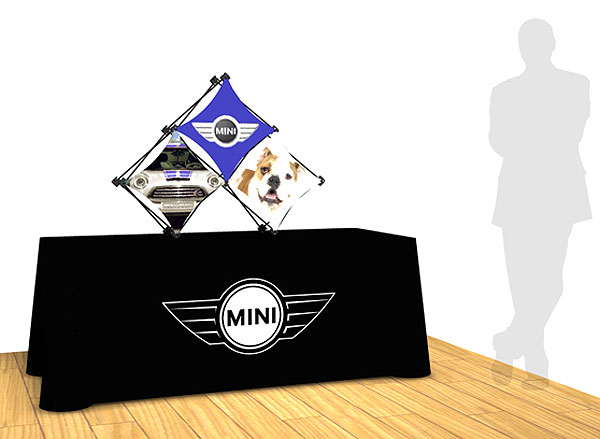 The pyramid shaped display shown above is 33.125 inches tall and 43.875 inches wide.  It is a great option for small exhibits, local shows and use as a sign about upcoming events on university campuses. The graphics stay attached so it just pops open and snaps into place.  No other setup is required.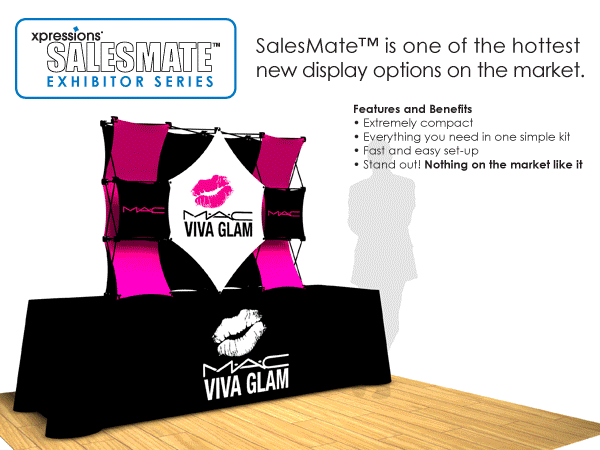 As you can see in the animation above this particular style comes with a lot of configuration options.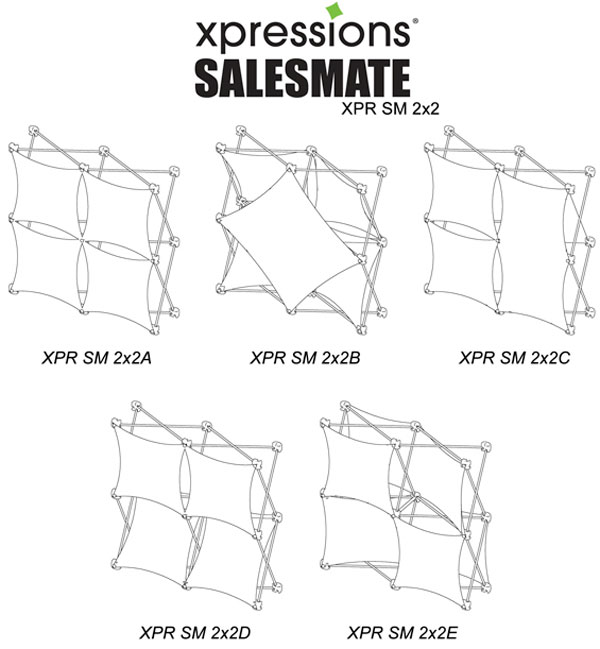 All of the drawings above represent a display that is about 30 inches wide and 30 inches tall. They pop open in seconds and there are no tools required. The shipping weight is only 9 pounds.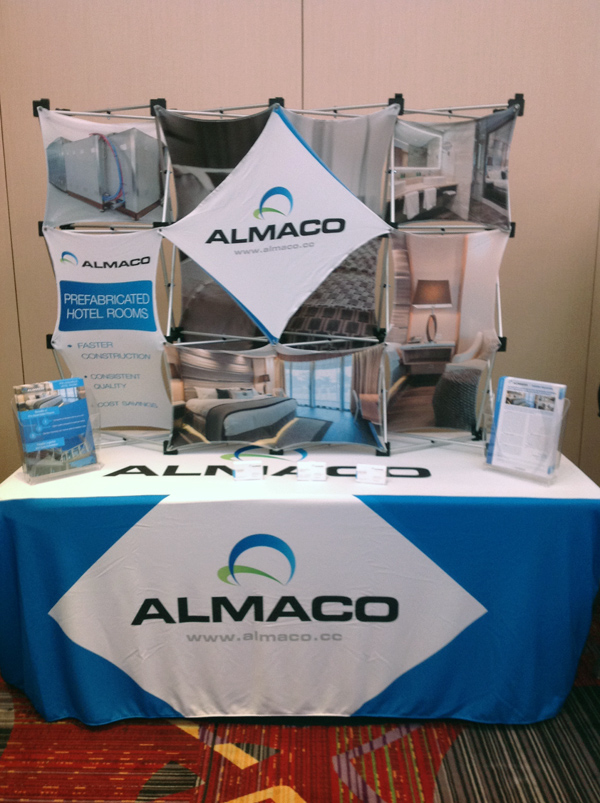 The picture above and below this text are showing two examples of our Micro Geo Metrix pop up table top display. The excitement of three dimensions meets the ease of a pop-up. Interchangeable, dye-sublimated fabric banners create a multitude of looks on one display. Easy change, fabric panels are machine washable and priced right! It comes with a soft carry case and the size is: 56.5″W x 10.75″D x 42.25″H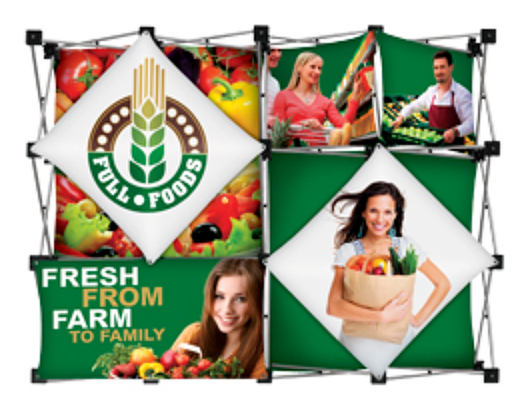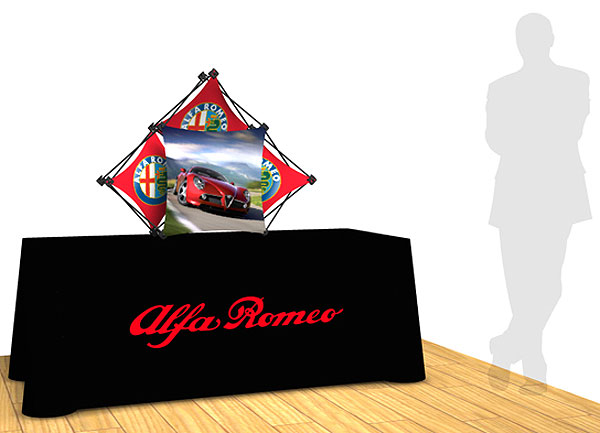 SalesMate Exhibitor Series 3 Quad C
Shipping Weight…….. 8lbs.
(Includes frame, graphic, carry bag and Convert-a-throw in box with packaging.)
Dimensions:
Open – 43.875″w x 33.125″h
Closed – 6.75″ w x 17.5″h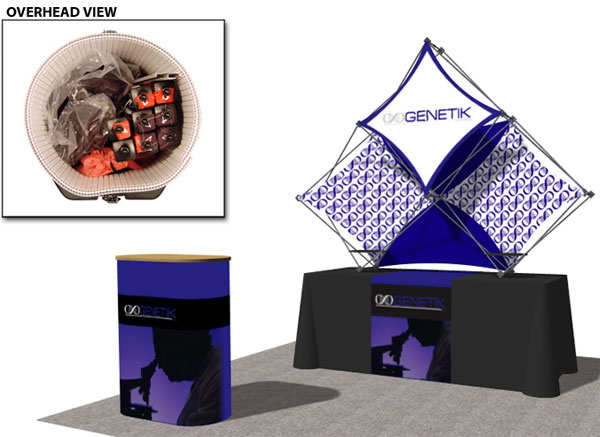 Little Giant Kit A – Xpressions SNAPCase / Case-to-counter top and rollable tambour (wheeled drum shaped carry case) Includes Fabric graphic counter wrap and Xpressions Snap 3 Quad (A) Table Top w/printed backer and an unprinted 8' Full Table Throw with a 30"x66" dye sub select runner.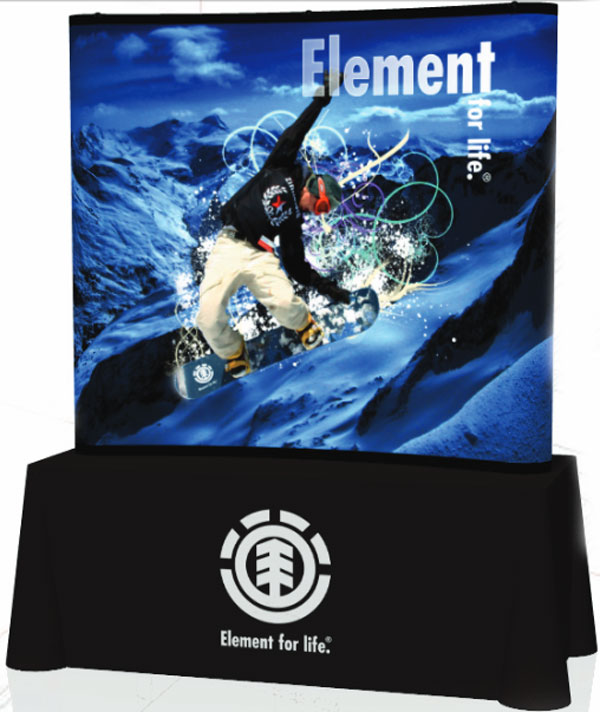 SYNC 22cSize: 5'3"h x 5'5"wWeight: 60lbs. (Frame,Graphics, Channel Bars and shipping case) System: 2 quad x 2 quad curved self locking, light weight, fully cross braced pop-up system
Fabric Panel & End-cap Options:
Silver/Grey Front-runner (PMS 423c)
Blue Imperial Front-runner (PMS 2757c)
Black-ecofi Lava (Pantone Black)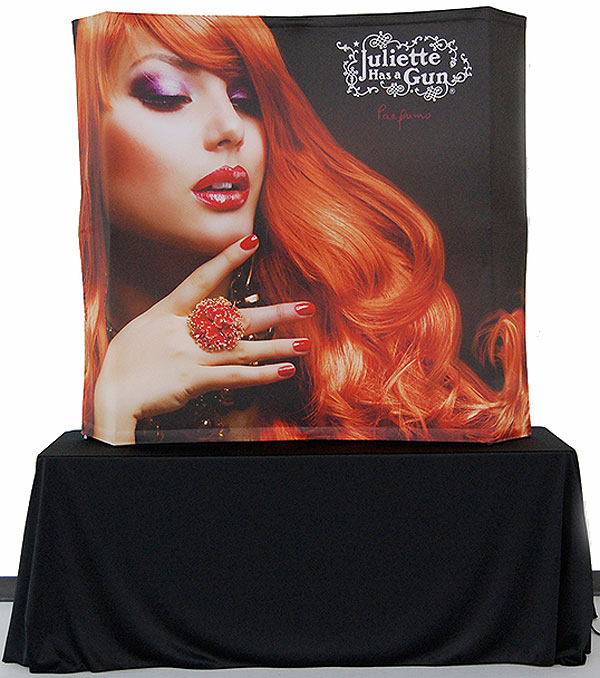 The above VBurst Fabric Curved Pop-ups are now available with a backlighting kit! Convenience, functionality and good looks make VBurst the smart choice for events and trade shows.
The backwall velcro attaches to the side of the frame and the front fabric graphic endcaps attach to the backwall at the back hub. The result is a clean and professional looking system that is easy to set-up and easy to pack. The front fabric graphic with endcaps is printed with HD Dye Sublimation on material.
Get a 2×2 Curved VBurst Fabric Pop-up!Dye Sub Fabric Graphic w/ Endcaps (77.5" x 59.5") Unprinted fabric backcover (68.5"w x 59.5"h)
This is perfect for a 10×10 exhibit booth.Shipping Weight: 35 lbs.
We want to be your number one choice in pop up table top displays.