Trade Show Display Lighting
Check with us for all your table top trade show display lighting needs. When you buy lighting you'll want to be able to use that equipment at all venues, not just some venues. Take for example a city known for bright lights, Las Vegas. They have been busy for the last several years changing their reputation for massive consumption of energy. Outdoor lighting and a lot of indoor lighting is being switched over to LED lighting.
LED lighting for trade show displays is known as Las Vegas Friendly lighting. In fact many rental companies and venues are only using LED lighting and won't allow the wrong lighting into their venue.
Are they going green and trying to be eco-friendly or could there be some other motivation?
The most important thing for you to know is that different lights attach in different ways. Rather than show you dozens of lights that may not be able to attach to your table top display; we just want you to know that we have the lights you'll need.
We have the Trade Show Display Lighting you need!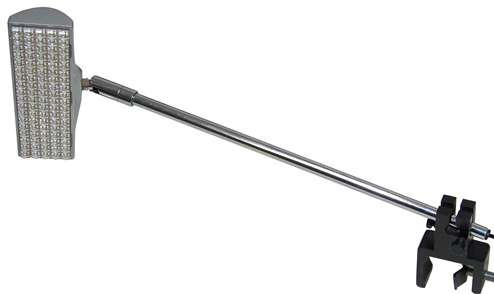 Here is why you'll like our LED lights:
1. Our LED lights are made to fit your table top display.
2. They are sturdier than incandescent bulbs and less likely to break in shipping.
3. They use a lot less electricity.
4. You can use them in Las Vegas and other venues.
5. They create a lot less heat which ads to your comfort while reducing fire hazards.
6. LED exhibit lighting produces a much more pure white light than incandescent bulbs.
7. These lighting solutions last much longer and are less likely to burn out.
8. Lower voltage means less likelihood of getting an electrical shock.
9. Halogen lights produce a whiter light than incandescent bulbs but produce so much heat they are banned as a safety hazard in several venues.